Post by metroland on Nov 28, 2011 14:32:53 GMT
Since buying the Red Pannier book, I've become a tad obsessed with what I call the 'mid life patina' of the LT Panniers and how it might be recreated in OO form.
Although the latest Bachmann offering of L89 seems quite accurate in terms of the original colours, it doesn't have that wonderful weathering they had some way between ex-works and totally filthy.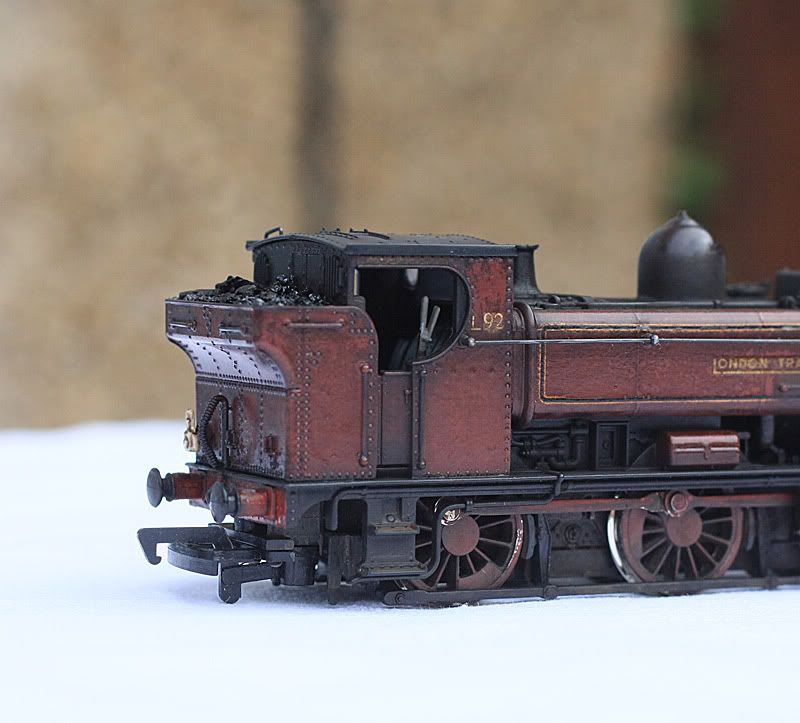 The way they got that sheen was described in the book, and although there is much source material on weathering model locos, I've never quite seen this done to achieve something resembling the LT patina. With a current Bachmann loco being £65-ish with p/p I wasn't about to make a real mess of it without knowing where I was going, but fortunately had a couple of old Mainline panniers in BR black to practice on.
Note: I do not have an airbrush so everything had to be brush paints and powders. I suspected it may be a case of building up layers, and this turned out to be the case - no great skill, just a long elapsed time as there are several stages to this.
The transfers were rubbed off using T-Cut and the body cleaned. The next issue was - what paint to use? I took some colour photo books to my local model shop (Model Junction, Slough) who specialise in Americana but they also have lots of useful bits and bobs.
I had a feeling there was an American colour I could use for the body, and they had racks of Testors Polly Scale acrylics to check the photos against. I settled on Lehigh Valley Cornell Red, although D&RGW Freight Car red is similar - just a shade lighter and may be better if you want a loco nearly ex-works.
Over several days I brushed 4 thin coats of Cornell red, building up the coverage and leaving to harden. The LT pannier lining transfer sheet is currently out of print, so I used some old Pressfix GW lining for the tank sides, plus some gold fleet names I'd had from Radley Models for ages.
The dirt and grime on the body was built up by 3 coats of Modelmates oil brown spray - leaving to dry a bit then rubbing most of it off again in the places where the cleaner would have rubbed the paintwork with oily rags.
Finally (for the paintwork) a couple of thin coats of Micro Satin from Microscale Industries - I'm pretty sure the 'active ingredient' is actually the same as original Johnson's Klear, but I've never been able to get hold of any Klear as it's no longer sold.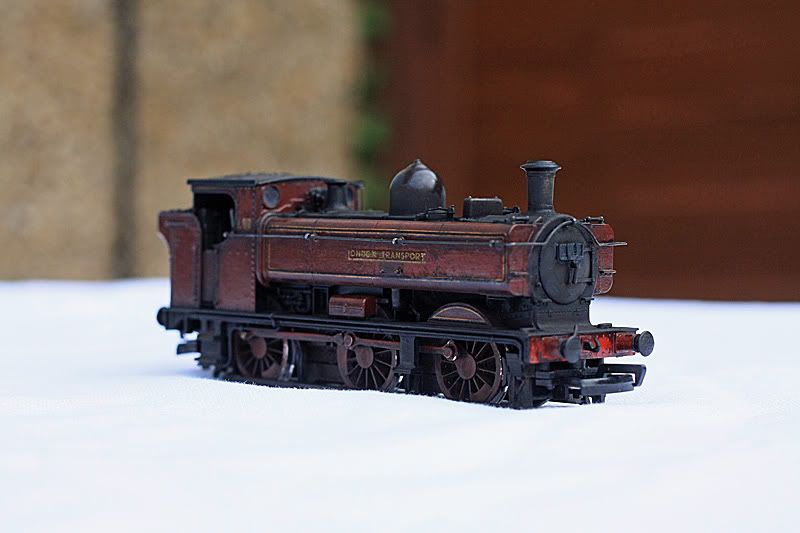 The cab roof and top of loco were heavily dusted with black soot, over-brushed with dark grey dust which I feel captures the look better than just plain black., plus replacing the coal in the bunker.
I know there are several faults with the body but this exercise was about 'achieving the look' of the paint and weathering. Things to fix are:
a/ I made a mess of handrail on LHS
b/ I need large gold L.92 for the bunker - no idea how to achieve this.
c/ Couplings are rubbish and will be changed (probably to Kadees) eventually
d/ There should be 4 hooks half way down the bunker to hold fire-irons
All the above can wait for now, so much to do, so little time……
The driving wheels and coupling rods had a couple of coats of Cornell Red, and the rods have a couple of coats of signal red on top. After weathering, the rods were cleaned along the top edge only, as that seems prototypical.
L92 simmers at Aylesbury Juction whilst the crew take a break:
The wheels were then daubed with coats of dark grey and light dusty brown alternately as that seemed to capture the feel. A great thing about pastels is you don't have to wait for them to dry and can add further top coats straight away. The whole chassis was then sprayed once with Modelmates oil brown and rubbed down. The close up pics are very cruel - you can see where I need to re-touch bits.
L92 waits to set off with a short goods: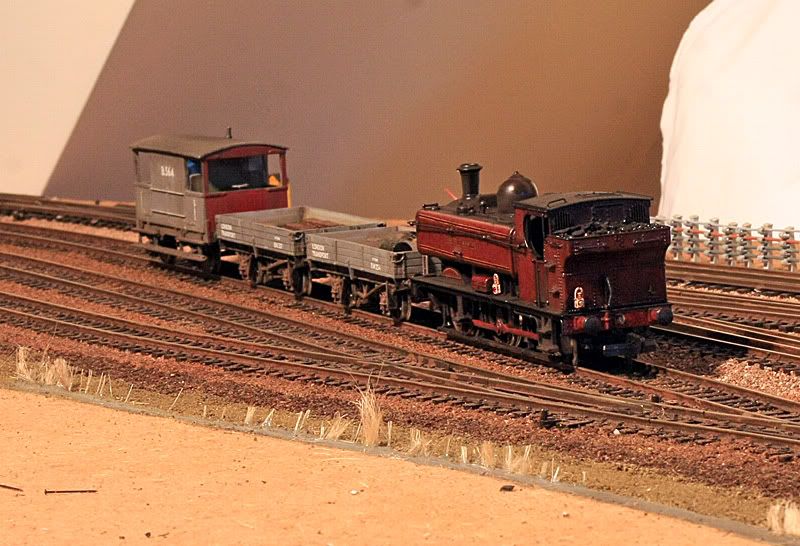 A comparison with the donor loco:
All in all, I'm very pleased with this 1st attempt and happy with it a 'normal viewing distance'. I'm less happy with the close- ups though pretty pleased with the cab and bunker bits. I've decided to call it a day on this loco for now and will probably attack my other Mainline pannier over Xmas. Hopefully that will give me enough experience to encourage me to have a go at the 65 quid model. At least on the Bachmann one, it's already painted, so it's just a weathering job to be done.