Post by kevraul26 on Sept 12, 2017 18:28:43 GMT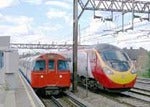 A train comprising two steam locomotives, two diesel locomotives and the recently repainted British Rail Class 438 4-TC set travelled from Ruislip depot to Harrow-on-The-Hill from where it made several return journeys to Amersham, before returning to Ruislip.
At Amersham the London Transport Museum had arranged a special afternoon tea on the island platform plus there were some memorabilia sales stands.
Outside the station three Routemaster buses carried passengers to the town centre and to Chesham.
The bus rides were free of charge but the train rides and afternoon tea were chargeable.
What was good was the large numbers of people who turned out to see the trains and ride the buses. Many family groups. Despite the grey skies and being (at times) quite blustery, the rain mostly held off.
What was not so good however was that in perfect present-era railway fashion getting to this event was not as easy as it should have been - this was because the regular service was disrupted by planned weekend closures. On this occasion the Metropolitan Line was not operating south of Wembley Park - passengers had to use the slow all stations Jubilee line instead and change at Wembley Park.
On my way north I found the interchange at Wembley Park to be a shambolic experience with even the poor lady making the PA announcements having no idea about what was actually happening. The electronic 'next train' information displays kept changing between Chesham, Watford and Uxbridge trains as being the first train, not that it mattered too much as in reality no trains came at the advertised times. When a train did finally arrive it was a Watford train - so I had to change again whilst en route, which entailed even more waiting.
I saw the 4TC set and BR diesel loco 20142 in their new pastiche fully lined London Transport red livery. Regarding their new guises, er um, ye gads, what has happened here? My best answer comes in the form of a quote by Star Trek's Mr Spock; "Its history Jim, but not as we knew it". I suppose though that the general public will not know or care about the accuracy of these liveries for these items of rolling stock. At least the steam locos emitted real steam!
My journey home was much easier as I took a Chiltern train from Amersham to Harrow On the Hill and I only had to wait a few minutes for a Metropolitan train to Wembley Park, where a Jubilee Line train was arriving at the same time as the train I was travelling on.
As an aside, re: the four(!) locomotives, these were (steam) Met No.1 and what I think was GWR 9466 plus (diesel) 20142 and 20205.
In due course some photos will appear on Flickr and video on YouTube.
Simon
A few of my photos from Sunday at Ruislip