Post by Admin Team on Sept 19, 2008 12:42:58 GMT
If you want to put an image in a post or PM, you'll first need to get your image hosted on the internet. There are many free image hosting websites on the internet; the forum staff recommend
Photobucket.com
- creating an account there is just as easy as it is to join this forum.
Once logged in to your account on
Photobucket.com
, and depending your operating system & browser (we've used Windows XP & Firefox), you are looking for an area like this: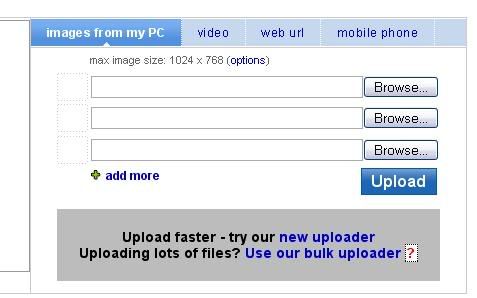 The first bit to note is where your image is originally stored; there are options to upload from your PC, video, another website or a mobile phone:
You should also note the text just underneath which says " max image size: 1024 x 768". For the purposes of this tutorial, we'll stick with the default PC option....the other options work in the same way, so once you have the hang of it, you'll know what to do.
To get your image onto
Photobucket.com
, the first step is to click on one of the "Browse" buttons. This will then open a box where you can browse to find the image you want to upload: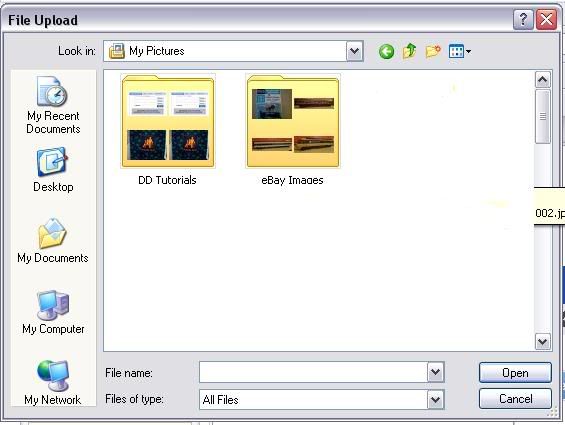 Once you have selected the image, its location will appear as text in the box next to the upload button. If you want to upload more images, simply repeat the process with the next "Browse" button. If you have a quite a few images to upload, click on the "add more" option and you'll get more "Browse" boxes to work with.
Once you have selected all your images, simply click on "Upload" and
Photobucket.com
will do the rest.
Before you post your image on the forum, please remember the limits in rule 8d (
click here
). If you haven't edited your image correctly prior to uploading it, don't worry - you can edit images in
Photobucket.com
! To see the Tutorial on editing in
Photobucket.com
,
click here
.
All that's left now is to get your image onto the forum. The part of interest is just below your image, and looks like this: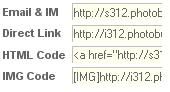 As you'll know from the 'Images in a post' tutorial (
click here
), we need the [img][/img] tags. You'll notice that the "IMG" code option at the bottom of the list does this for you - all you need to do is copy the code and paste it in the post or PM on the forum. The "email & IM" and "HTML code" options are not used for this forum. If you'd prefer to simply copy the URL address of your image (ie, the
www.or
http// part that everything on the internet has), you can use the "Direct Link" option (the "Direct Link option
must
be used when uploading an Avatar to the forum - for more on Avatars,
click here
).
**Please remember to ensure your image complies with the size limits stated in rule 8d.**
(
click here
to see our forum rules)