Post by aslefshrugged on Dec 14, 2016 15:26:43 GMT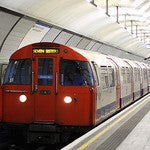 Southern Trains - a rather large handcart to go to Hell in ......

Whereas I respect the democratic right of Trade Unions to strike, within the Law, the current dispute has gone "beyond stupid". Why?

Even if the dispute was ended tomorrow, or even if the Strikers never ever came back to work again, Southern Trains is a broken organisation that cannot be fixed, and the present posturing on all sides won't fix it. It needs the Government to stop meddling, as a "Stakeholder", and to create a clean slate from which to move forward.

The proposed "takeover" by TfL cannot be worse than the situation already is.
We can forget about takeovers and devolution. Mr Grayling will never devolve anything to TfL while under Labour control at City Hall.
The dispute is of the government's creation. That much is clear. They will continue to bankroll GTR as franchisee for as long as it takes to "win" (however they define victory). The fact that passengers, families and businesses are suffering hugely appears to be an acceptable cost in order to defeat / weaken the trade unions. It takes something to get ASLEF to go on strike given their long term record since privatisation is actually to settle rather than strike. It should come as no surprise that the unions have responded as they have.
I have a decent amount of experience of platform / train interfaces on LU and I certainly have some concerns, based on feedback from drivers on GTR, that there are genuine safety issues with the plans to eradicate guards without compensating investment in and high quality maintenance of the equipment that surveils and feeds back images of the platforms at GTR stations. In the context of burgeoning growth on the GTR network then there is a need to keep on top of the risks. There are lots of ways to do this that may or may not involve guards. The lack of any commentary on this central issue from any of the parties suggests they either don't care about it or there are some inconvenient truths in discussing the real issues.
From Mark Colombini, ASLEF executive committee member for south London and the south-east yesterday.
"What they are looking to do under driver-only operation is to transfer those duties to the driver so the driver would have full responsibility for dispatching the train. How that would work is that there are bodyside cameras that view down the side of the train and the driver would have to view down a set of monitors to check all the doors.
There are issues relating to that because, particularly with very long formations of coaches, effectively 24 sets of doors, for the driver to do that in a short period of time. The images produced by the bodyside cameras are really unreliable, particularly in poor lighting, whether that be at night or just dusk or when it's overcast, particularly in the rain – even light drizzle has caused some of the images to be really poor. That's quite clearly an unsafe method of operation."