Post by North End on Jul 25, 2017 10:11:24 GMT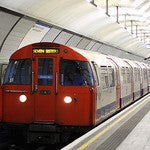 The BBC continue to use images of trains that aren't really right too, in
their article
we see a
Northern Spirit
train (who last operated trains in ~2000).
Pity Mr Burnham hasn't read the small print. No money has been released. There is no actual go ahead for CR2. There are "soothing" words from the SoS but really the Mayor of London has been told to go away and do more work. This is all about shutting up people who were lobbying the DfT incessantly and also stopping TfL and the Mayor "shouting out loud" about the DfT not having replied by May on the business case. Note also that the scheme is not yet "affordable", the scope is not finalised and there is no word whatsoever about the strategic business case. Therefore the DfT have not answered publicly the exam question they had been posed by the Mayor.
It is also worth saying that HS2 to the North is still going ahead and Trans Pennine electrification is not cancelled. Finally it is not as if Greater Manchester has not had billions spent on Metrolink, electrification, new trains currently in build or other infrastructure projects currently in build.
I know Mr Burnham can't say nothing but it might be better if we stopped all this north vs south rubbish and concentrated on getting good projects defined, scoped, justified and in build regardless of where they are. If every time London spends a load of its own money alongside govt spending we're going to get a whingeathon from everywhere else in the country it's going to do nothing for national cohesion. Breeding constant regional resentment is a pathetic look for our country's politics.
Agreed 100%. I find this north v south moaning so tiresome. Regional resentment, as you succinctly put it, is one of the parasitic influences in our politics at the moment.
Sometimes I think parts of the country live on a parallel universe - granted there are a few places which see heavy congestion outside London, but generally things are nowhere near as bad. Outside London peak times don't last as long, the volumes of people are a fraction, and the distances travelled are generally less.