Post by towerman on Sept 8, 2017 11:05:10 GMT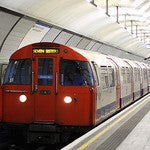 No different to today - 4 tph daily. I suspect the PIXC extras in the peak including the Woodgrange Park to Willesden Junc working will cease because the new trains will be twice as long and more spacious inside (for more standees). TfL will no doubt be watching to see if suppressed demand suddenly surges forth making the EMUs very busy in the peaks.
The line will be extended to Barking Riverside in 2021. Again no planned service improvements on day one other than extra trains added to the fleet to run the longer service.
There are contract options to add a Boxing Day service (won't be happening this year) and also the possibility of an earlier morning start time and running the 4 pth service until close of service. Whether TfL has the cash to activate these enhancements is questionable and it's not known if Network Rail are keen to relinquish engineering hours for an earlier AM start. There may also be freight issues but that's guesswork on my part.
Beyond that there are three possibilities whirring round in the ether.
- lengthening the trains to 5 cars. Would need more platform works and possibly signalling changes (for sighting issues if stopping positions change). Probable depot changes to accommodate longer trains.
- increasing the service to 5 trains per hour. Obviously more trains needed for this and probably signalling changes to handle the higher frequency and depot changes for more sidings.
- a possible supplemental peak service which would involve a planned extra 2 tph from Enfield Town to Seven Sisters being run down the curve at South Tottenham and then on to Barking to add more peak time capacity between Blackhorse Road and Barking. This is an idea that has only recently reached the public domain but there is no time frame for this. It has long been known that TfL are very keen to add more peak capacity between Enfield Town and Seven Sisters where huge numbers change for the Vic Line. Any extra trains can't reach Liv St as there are no paths in the peaks.
The train supply contract with Bombardier has a number of pre-determined options in it to allow TfL to order more trains or carriages if it requires them. Once the 42 day objection period to the granting of the Transport and Works Act Order for the Barking Riverside line expires (hopefully without challenge) I would expect TfL to announce it is ordering more trains for the GOBLIN route to run the extended service.
Thanks Snoggle,can remember when it was every 30 minutes & no Sunday service.